A Place at the Table…
This is an invitation to join me in creating a place…a place at the table.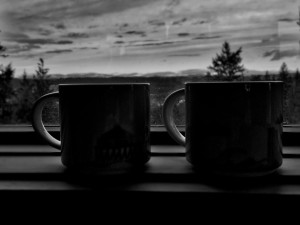 It's six a.m. and you're walking into your local coffee shop to meet a friend. You stand in line, waiting your turn, eyeing the available table space. A Jack Johnson tune plays in the background. You want some place private and quiet, enough that you could continue a meaningful conversation that has evolved over the past few gatherings…each time getting a little more vulnerable and honest, open and insightful. You gather your carefully crafted brew and slide into that space, waiting.
What happens next is the BIG DEAL. When your friend arrives, great things happen. The shared insight, the inside jokes, the ever deeper questions and gentle provoking towards truth all create a space of grace that lifts you towards better. The coffee shop becomes a sanctuary, the brew becomes the bread and wine and the two of you become the church.
I am asking for your help because these conversations create opportunity for growth and understanding. The  young people that I work with–junior high through college age students–lack funding and time. So, for the past 31 years, I have met them at their convenience and bought the coffee, tea, etc.. The current structure isn't sustainable, which is why I am asking for your help.
The request is this. Would you consider funding one conversation a month for one year, allowing me to continue serving the community of young people that has been made available to me. $10 a month for 12 months would allow that child the security of knowing I am available, when they have time, to carry on the conversation.
Thank you for your support and continued friendship.
Kevin Brusett
PS. Things you can do to help…
Click

 

the donation button and fund a conversation.
Explore

 

the Inner Anvil website to get familiar with our work.
Like

 

the Inner Anvil Facebook page at https://www.facebook.com/InnerAnvil
Invite

 

3 friends to join us. Great dreams are worth sharing.
If you would like to know more about what we are doing and how we got here, this letter tells the story…
In 1983 I fell in love with a girl, followed her to Southern California and became a youth pastor. All for love.
I spent ten years in Orange County, investing in the lives of junior high through college age students. I took the job because of love, worked hard and became good at it. I used the skills acquired during high school and college: a love for Jesus, musical and athletic abilities, and a desire to build a caring community. It was a good life.
I received an offer to transition my ministry to Portland, OR. For seven years I worked at Portland Adventist Academy as a teacher and associate chaplain, followed by twelve years at Bridge City Community Church as an Associate Pastor. The last two years have been spent in independent ministry. Overall, I've acquired 31 years of experience serving young people and their families.
Now, I find myself in a unique position. God has presented an opportunity to expand the scope of my ministry. In the prayer-life of a new vision, God and I came up with a plan for moving forward; it involves six steps. The first, making right, relationships that were wounded. Second, rebuilding my recording studio for ministry use. Third, being available for the homeschool co-op, Heartlife Imagineering. Fourth, offering to invest in the worship life of Walla Walla University and Pacific Union College. All four are underway.
Now, the fifth item: build a team of collaborators who will join me prayerfully and financially, allowing me to continue serving the community in which God has placed me. I love what I do and it's working:
Serving Heartlife Imagineering (the home school co-op) where I teach teachers, students, and families the art of living a character-driven, intentional life.
Mentoring young people, individually and in groups, through dozens of deep, reflective conversations that boost confidence in working through brokenness and investing in their spiritual lives, life skills and character development.
Developing young artists via songwriting, concert creating, and skill enhancement; using music to reveal and share their passion and purpose.
Supporting programs such as the Portland Adventist Academy worship team, the Walla Walla Worship Project, and others.
(Six, is profoundly personal and if you want to know more, I would love to sit down over a cup of coffee.)
Fifteen years ago I started a non-profit organization called Inner Anvil Ministries. The purpose was to support opportunities and expenses associated with youth ministry. Inner Anvil has funded the spiritual development, character-building, and skill formation of hundreds of students. This is the vehicle I would like to use to build the future.
This letter is to ask you to consider financially supporting Inner Anvil, starting with a one year commitment. The goal: raise $10,000 a month for twelve months. This will allow my team and I to continue our significant impact in the lives of young people. One-third of this amount allows me to maintain this 31-year ministry by funding my salary. Two-thirds will go toward investing in the lives of young people and their families as outlined in the list above. All donations made to Inner Anvil are tax deductible.
For your donation you will receive bi-monthly (six times a year) updates as well as, regular social media updates via the Inner Anvil Facebook page.
Two ways to donate: 
Mail a monthly donation to:
Inner Anvil Ministries
2816 SE Harrison
Milwaukie, OR 97222
2.  Go to https://inneranvil.org and sign up for a monthly, recurring donation.
I invite you to like Inner Anvil's Facebook page, https://www.facebook.com/InnerAnvil, and check out https://inneranvil.org to see what we've been doing over the past year.
Should you choose to partner with Inner Anvil this year, you will have an immeasurable impact on the lives of young people who need love, direction, and a purpose in life. Through your prayers and financial support you will facilitate a year of incredible life change.
Sincerely,
Kevin Brusett
Founder
Inner Anvil Ministries
YOUR LIFE IS THE ART OF HEAVEN.