The Road Is My Middle Name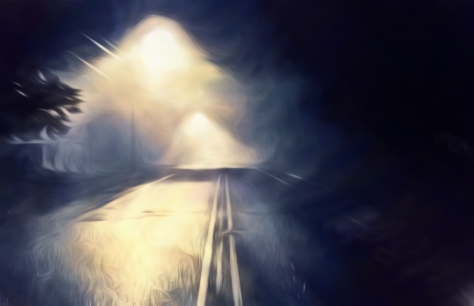 3967.3 miles for this trip. I left on a Saturday, around 5:30 am, to make church in Post Falls, Idaho. I didn't know what to expect from church, but I knew what to expect from my cousin, Gayle, and her husband, Pau
l…nothing but love. Come to find out, NorthWest Summit was an awesome experience… amazing, diverse worship, a biblically oriented, spiritual message and an interactive audience…coupled with breakfast, coffee and unexpected friends I didn't know would be there. Every time I see Gary and Karen Andregg, I smile. Gary has the goatee that inspired me to try one of my own, albeit 15 years later:-) As everyone filtered out, I got a tour, talked about future collaborations…and then we went to a local Chinese restaurant… Gayle, Paul, myself and a young contractor, Randy Wright. Time flies around the table and soon I was on the road towards Missoula, wondering how much snow was on the passes.
The road to Missoula is an old friend. Years of traipsing off to college from Helena, left me with few Montana travel surprises…only the road conditions were at play and they proved harmless. Taking a right through Missoula, I headed off to Florence to spend the evening with Dennis and Sandy Lacey. Sandy's father was a dentist in Florence for years and Dennis took it over when he retired. Sandy and I became friends while attending Mt. Ellis Academy and have maintained an easy, longstanding dialogue. It's one of those relationships that stays current no matter how much time floats by. We sat in overstuffed chairs, right off the kitchen, and talked the language of those who have weathered a storm or two…our children ( they have two boys ), our purpose, our future retirement:-) Closing time comes earlier these days and it seemed just a moment that we were meeting again over breakfast, un-postured anecdotes and the ease of leaving settling about us. I love these people and it could be a day or five years before we gather again and I would treasure what I get. I leave, lightly tethered.
Just down the road from Florence is Hamilton, Montana…a wee bigger wide spot in the road. And the Coffee Cup Cafe is the next stop, where I am having ( unbeknownst to me ) breakfast pie a la mode with my former room mate and friend, Brad Warren ( I knew that part :-). I think it's been at least twenty years since our paths have crossed and that has been a mistake on my part. Facebook reconnected us and I have had the privilege of eavesdropping on a life well lived. While Brad and I have the same birthday, one year apart, our deepest connection happened the year after high school. We were roommates at Andrews University for one quarter and then I  came home …blown ankle, almost no community and attending a local state college, MSU. Brad's mom and sisters took me in. I remember riding my Schwinn ten speed bicycle ( after the ankle healed ) out to their little "homestead" at the western edge of the Bridger Mountains…cross streets to frontage road to gravel road, dodging four wheel drives and farm vehicles, until I coasted into the yard.They always made room for one more lonely college kid. I believe there were times I stayed too late and "had to" crash on the couch, just to stay safe. The next year, I headed off to Walla Walla College ( now University ) and he headed off to A and P school, near Rexburg, Idaho, with another good friend, Brad Hasse. One thing leads to another, and now, he is  happily married to the amazing Mary, got two kids whom I've yet to meet and flies helicopters all over the world.
I checked my mapping device, as I was leaving Hamilton, and it suggested that I should head right, towards Salmon, Idaho, rather than back towards Missoula. Feeling compulsive, off I went. Just past the turnoff for Lost Trail Powder Mountain Ski Resort, as the snow on both sides of the road grew substantially higher, the mapping device, i.e. iPhone 6 plus, suggested I take a left onto what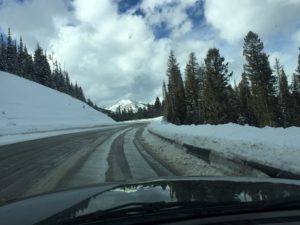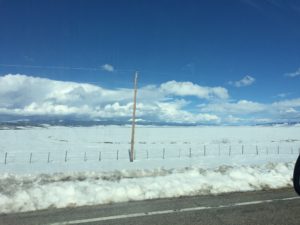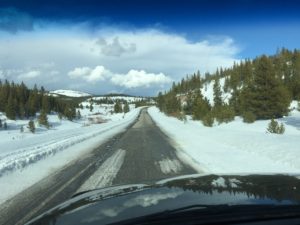 appeared to be a mostly one lane, seemingly paved, road towards The Big Hole Valley. What a lovely, albeit lonesome, bit of country.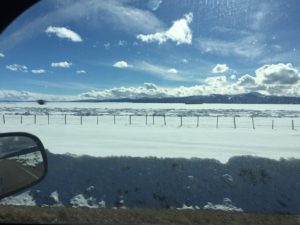 An hour or two late, I hit the 90 Interstate, and I hightailed it through Butte and into Bozeman. I had a talk to give that night at Mt. Ellis Academy, for a program called The Summit. They had no idea what was coming, and to be honest, neither did I.
Founded in 1902, Mt. Ellis Academy has been serving the Seventh-day Adventist young with vision and ingenuity. The Summit, a yearly gathering, invites students and families from all over Montana to come celebrate great local skiing and stretching their faith. This year I had the privilege of being the featured speaker and teaching a class on developing your voice in worship. It's interesting coming back to your alma mater after being forty years, mostly, removed. Places and spaces seem the same, except now you're the old guy wandering around campus…when I was in high school here, I always wondered who those people were and NEVER dreamed I would someday be one of them.
I had arranged to stay with Jeff and Shellie Leek. Shellie belongs to the Smith clan who became a second family to me while I was attending Mt. Ellis, back in the 1970's. Her folks, Charlie and Jo, have long since moved to Walla Walla, but Jeff and Shellie bought the old place and let wanderers abide, now and then:-). If you're lucky, Jeff will share his coffee and cook some mean eggs for breakfast. It's interesting to re-enter sacred places. Memories rise up, like moths to the flame, and you can almost feel an out of body experience, as you watch your childish self re-walk original experiences. As I was getting ready for the Sunday evening meeting the moths begin to fly…sitting besides so and so, holding hands…hearing Tom Sanford speak…first banquets…night skiing…the staff, the students, the gaffs and heroics all came to life…and I wondered what I had to say to these students that, now, would encourage them to choose a walk with Jesus…or at the very least, choose to walk with love. So much of my adventist background is littered with hesitant relationships because of differences in faith. I choose to weave the fringe.
It ended up being a lot of fun. My hesitancy over connection was overcome by innovation, enthusiasm and dialogue. Their questions pushed into faith, mousetraps that turn into rat traps, stories about dead people and hope around one guy that is still around…Jesus. Three days passed in a hurry…I spoke 5 times, taught 2 classes, recorded 2 awesome singers ( Shawna Sample and Dan Eddy ), helped write 1 worship song and had dozens of conversations around things that matter. As I pulled out, headed to Salt Lake, there was the tinniest twinge of regret that I wasn't staying longer. When I make rich connections with people, the leaving is a challenge.
Let's talk about the music for a moment. In my God life, I feel like He has asked me to facilitate my music and the music of others. However, my music is something that I've long put on the back burner, choosing to hide behind helping others, for better or worse. In that context, a year or two ago, I was in Bozeman for the day and got Shawna to come sing with me. She had been a worship leader for 20 years before going quiet, due to some life challenges. With a little coaxing, she agreed to come spend an afternoon together…I would play one song, then she would play another…until our time was up. In leaving, I asked her if she would come to Portland and record a project for her folks, Jo and Charlie. She said. " Yes.", but time has a way of slipping by and before you know it, I was back in Bozeman and she had some time off…so we spent an afternoon in the academy sanctuary…I ran the recording gear and she played and sang her heart out. The next day, my cousin in law, Dan Eddy came and recorded for a couple of hours. Dan and I got connected, musically, by playing for a wedding in Jordan, Montana last summer. I found out that Dan plays for several nursing homes in Livingston, Montana, and that when he is not there, no music. We arranged for a recording so that the folks could have some entertainment when he's gone. And the cool thing is, Dan plays music they love…songs from the 50's and 60's that they recognize and can tap a toe to. Sometime between now and summer, we will have it all up and ready to share. I can hardly wait.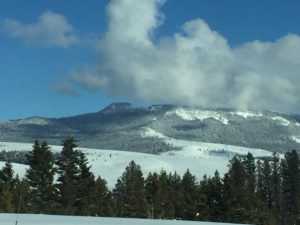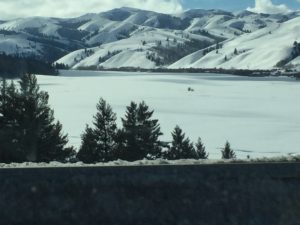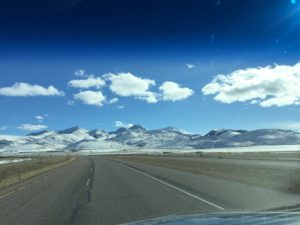 Barry Curtis, the MEA pastor had surgery on Monday and I stopped by on Wednesday to wish him well. I left town a little before noon, heading west. The road from Bozeman to Salt Lake City cuts through some amazing territory…rugged mountains, sweeping valleys and a sky that seems limitless. The roads were clear, book on tape was cued up and snacks were within reach. I pulled into town around 7 pm and headed to the Wasatch Hills Seventh-day Adventist Church, where my friend, Zachary Parks, is holding it all together. He's a new grad from Walla Walla University, extremely gifted, and has had the privilege of wearing the pastor hat since the lead pastor left within a couple months of his arrival. When I arrived, they were having a Wednesday night Bible study so I crashed on the couch in the lobby and checked my facebook, weather forecast and email. About 8:15 folks started heading home and Zach, with his friend, Jonathan Stephan ( the youth pastor at Meadowglade SDA in Vancouver, WA ) came out and we got comfortable on the couches. For the next hour we chatted about who we knew ( come to find out, I went to school with Jonathan's dad and uncle at Walla Walla as well as Zach's folks ), challenges of being a young pastor and what it's like living in Salt Lake. I still shudder at what it was like to get that first job and how hard it was to balance what expertise I thought I had with the actual demands of the pastoral relationships. About 9:15 or so, we left the church and I bid them adieu…I was going to sleep on Zach's floor but the weather forecast was for snow (2-4 inches) and I didn't want to be driving in snow all the next day…so they headed home and I hit the road towards Phoenix via the Panguitch Pass.
Travel was dicey heading south on I-15. Lots of trucks and chunks of melting snow littered the highway. I drove for about 2 hours and then pulled over to sleep. Around 1:30 I eased back onto the Interstate. The goal was to take Hwy 20 to Panguitch, head down to Kanab and then cross over to Page. From there it would be pretty straight shot to Flagstaff and on into Phoenix. All I can say is that I'm glad I had a four wheel drive. Leaving I-15, I went left up into the mountains and it didn't take long before I put the suburban into 4-hi and settled into a long night of driving. What struck me was the beauty of the sky, with no city lights to distract for miles and miles. The stars were diamonds that seemed ready to fall from space. The road was a serpentine pass, following the edges of night blackened drop offs…between fear, sea salt Pringles and an Arizona peach ice tea, I seemed to have no problem staying awake. Before I knew it, I was gassing up in Page and looking for a place to nap. Two hours of dozing and then I was hoping to hit Phoenix by noon.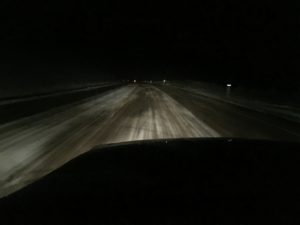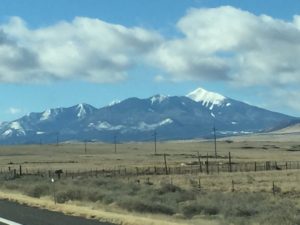 Two events stand out to me on this day of travel. First, was a God whisper that slipped into my consciousness. Went something like this…Kevin, if you have to add any requirement to Grace, it's not Grace anymore. That may not seem like a big deal to most but, for a boy/man raised in the heritage of adventism, it gave me a start. Nothing could be added to Grace. Nothing could be added to Grace. Nothing could be added to Grace…went though my mind for hours. For those who have chosen Christ, there is nothing to be done by you to receive that gift. A calm went through me and a confidence came over me that I had not experienced in a long time. This lead me to a second realization. A couple of years ago, God and I came to an understanding concerning what was next for my life. I had become the least of these ( jobs relinquished, debt accrued to show value because of jobs relinquished, character formation and family dynamics challenges…yada, yada, yada ) and in the pursuit of His will, a list had formed that was becoming an anchor around my heart. As I attempted to facilitate working through the list, moments and concepts from my past would resurface and progress seemed undeciferable. This day, I got to let go of the outcomes. I came to realize that the list of to do's that would actually bless me ( actions I could take ), were not necessary to being blessed ( actions God would take ). All of the resistance, dissipated, and I started to gain emotive momentum again. God's reminder that the only place I would ever find belonging was with Him hit home again. I was safe.
Dan and Ricci Wright live in Glendale, AZ. Ricci and my wife, Shelle, are sisters. I have been related for over thirty years, but more than that,they are some of my best friends. They have helped fund Inner Anvil for over 15 years, supported musicians that I have been working with, housed numerous road trip, travel friends of mine, up to 20 at a time, etc….. and I always look forward to spending moments in their gracious hospitality. The sheets are clean, the food is fresh and the dialogue refreshing. Who could ask for more? No one is home when I arrive and I've forgotten where the spare key is.  So, I crash on a chaise lounge couch near the back door with their dogs snuggled up for warmth. Ricci shows up within an hour and I grab some grub and we chat.
Ricci and Dan are that unique combination of richly spiritual and worldly engaged. Ricci plays worship at Arizona Worship Center once a month or so. If you are so lucky to attend during one of her weeks you will find some of Phoenix finest musicians sitting in. She has spent 20 years investing in the local talent, creating a model for jazz, contemporary worship that you seldom find in a church any size…and Dan is her biggest fan. That night we had plans to go to dinner with Duff Gorle and Bob McGhee. Bob, is a friend from college and Duff, is a mentor that I've worked with, off and on, since 1982. Duff ended up having to cancel, but Bob, Ricci, Dan and I sat down and shared an hour or two walking through Arizona Adventist politics, family life and the One Conference, which was starting the next day in San Diego.
The One Conference is amazing. It was my second engagement. Two years earlier I sat between Pastor Jon Ciccarelli and God man, Don Veverka ( certainly not implying that Jon isn't a God man as well ), and listened to a series of young Adventist pastors share such rich insight into the Sermon on the Mount. It was a vision of God's heart that reminded me of what I had loved about being an adventist…insightful, open, asking hard questions. It was enough to bring me back for another dose. This time it was on Revelation and I was curious whether the young guns would process differently, because Adventists have a pretty unique view on this book. I missed having Don and Jon there because of their insight and support.  ( For those of you unfamiliar with my Oregon Adventist relationship, the shifting sands of politics helped me move into non-denominational work. I am now working on driving Lyft and investing in peoples lives via my non-profit, Inner Anvil Ministries. Any questions, reach out and we'll do coffee. )
The format for each session is pretty similar….worship, two 20 minute sermons followed by a round table discussion. My first day, the facilitator at my table had all the answers which led to stunted conversations about the diverse, thoughtful ideas the speakers were sharing. Looking at Revelation ( the book ) from the perspective of  "What does it teach me about Jesus?" vs "What is it teaching about hell and the end of the world?". Second day, I found a place with a different facilitator and it went much better. The shared information and relational engaging was very inspiring.
Two conversations showed up during this time that caught me off guard. First, I was headed to dinner at the local mall and an old friend caught up with me and we started chatting. Now, I'm not interested in chitchat so by the time we hit the restaurant we were knee deep into real life dialogue. He opened up about how God was helping him work through some debilitating addictions ( aren't they all ). We ended up spending several hours over the weekend settling brokenness into the light of grace, accountability and purpose. I would go again, just for that. Second, out of the blue, an old student from Orangewood Academy asked for a moment of my time. He was pastoring in the NE and just wanted me to know how much I had influenced his ministry perspective. I listened, a little bemused, and offered heartfelt thanks…it was one of those moments where you have no idea what you did, but you're glad you did it:-) The combination of biblical insight and relational engagement made for a great couple of days…yes, I still feel a little weird, feeling like I'm eavesdropping on a conversation that you're parents are having in the next room…but it's OK. Jesus showed up and I was glad to be there.
This is where the adventure turns toward home. I spent ten wonderful years in Orange County and when I am passing through, there are many old friends to engage…as time allows. The first stop was for dinner with Jeff Succla and Helen Silo, gracious friends from the first youth group I worked with in Garden Grove. Helen brought her two amazing and infectiously delightful daughters, Chloe and Lexi. The only down side was that Jeff's wife, Karen, couldn't be there. It was fun to be able to share the depth of my journey and processing with them. While Jeff and Helen have, on paper, very different spiritual journeys…Love and the graciousness of Christ create a common framework that takes us into that melding dialogue. I love listening to them and sharing what's moving my heart, cause they get it. To be in a place where you could say pretty much anything and nobody gets shaken, stirred or defensive is a gift I don't have in many places. It is a richness that I didn't expect to gain, back when I was struggling to be a youth pastor, for them, in the back chapel at the Garden Grove SDA Church on Ninth St.
After dinner, I headed to Orangewood Academy in Garden Grove. I taught there, back in the late eighties and early nineties. The AD and head coach, Lesley Aragon, continues to be a dear friend who listens to my incessant dialogue about how sports is a tool to teach life lessons concerning character, resilience and spiritual formation. He has to listen for two reasons…three if you include that I'm right:-) 1. He lets me sleep in the weight room when I'm working in Orange County. It's quiet, there is a nearby shower and when I'm in town, it's usually non-stop engagement so having no one to relationship with, in the evening, helps with my nightly rebooting. Except that he works late, which means that we talk into the wee hours of the morning, now and then. 2. I was his coach when he was in high school and our relational/athletic battles centered around character…at the time…his. Looking back, I should never be smug about the life lessons I was working on with him, cause they all have come back to be my own struggles as well. Except for the time I had to bench him for a quarter cause he wouldn't move his feet and got himself in foul trouble…and he still hit 13 threes, I believe. Unbelievable:-) He is the kind of coach I would have wanted my kids to play for…passionate, knowledgeable and Christ hearted…even on the days when he's not his best self, which I've seen a time or two…it's common ground as he has seen that in me as well.
And then it's a late morning drive to see Greg Nakashima, aka Deuce. He teaches science and is the AD at a small catholic school, Sacred Heart High School, up in East LA. He was one of my students at Portland Adventist Academy, where I taught from 1995-2002. When I left the Adventist educational system I worked a month down in Colorado for a company, Quantum Learning. They ran a program, Super Camp, that taught learning and success skills to students from all walks of life. When I returned to Portland, I shared some of the ideas and experiences I had. Greg was one of a handful of students to pursue it deeper, in fact, I believe he became a facilitator which takes a boatload of diligence, talent and skill. When I see Greg, it's another one of those situations where you say hello and dig into the tough questions about God, career, relationships and purpose…how to, why to, want to, get to, try to, etc… and Greg was planning on marrying the Lovely Whitney, which happened in May. I did the wedding, which was a hoot…but the cool part was how we did premarital counseling around communication skills for the months leading up to it. I had become very comfortable with The KLLP, a communication assessment that gives great insight into yourself and how you share information. So I had the privilege of having an hour or two conversation, over the phone, with Greg and Whitney for several months before they got married. What a great way to build into a new life.
Each conversation seemed to turn back to Grace. It washed over every heartfelt reconnection. It started in the drive to…where I got a chance to think about how the person I was going to see had influenced my life… and it continued in the drive away, as I reflected on new perspectives and insights so freely given, if not yet fully understood. This was especially true of my next stop up in Shafter, CA.
The pre-story goes like this. When I was in high school, an adventist boarding school in Montana, I grew to love and respect the boy's dean, Rick Nelson…to the point that I wanted to be a boys dean myself. So I applied and got the OK to come back and be an assistant dean…and then the dean quit. And the new dean didn't want to use me because I was too close to the old dean…fair enough. By this time my old principal had moved to a school in Scottsdale, AZ and found out about my dilemma. He went and created a position for me to come work in the dorm there. Ron Russell is still one of my heroes. The boys dean I went to work for, Ernie Unruh, wasn't that much older than I but he had a ton more faith and confidence. I was there a year and it changed me.
Leap frog 38 years later and I'm headed to Ernie's place up in Shafter to spend the night. He's lived in the same house for a long time. In fact, students that I taught in Orange County stayed there a time or two on their way to play volleyball in Monterrey, CA. I was supposed to get in around 8 or 9, but I got a quick start out of LA and called Ernie letting him know I'd be in around 5:30…hopefully in time for dinner:-) That's one thing about the road…it's always good to show up around mealtime. Ernie pulled in, kidded me about being early, and we piled into his car and headed off to feast. He took me to a great hispanic place and we sat and talked for hours. He had me for a year, but he's one of those guys you would have been happy to work for…for a lifetime, although I'm not sure I knew it then. He was tough, at times outspoken, but he fought for the kids and you knew he was at your back, even when you were wrong. After dinner we headed back to his place to continue the reminiscing. I found myself nodding off and he shooed me off to bed…ever the dean:-) Next morning, I was a little more aware and we headed off  in separate cars to another favorite dining perspective…a little hole in the wall that caters to regulars. The waitress knew him by name. At the end of our time together, Ernie gave me some advice. Clean up my Facebook page ( One day I had a lunch meeting and I wasn't in a great mood and a friend decided to take a picture. I flipped him off, hoping he would be deterred from taking the picture and somehow it got posted. Ernie told me to delete it and I wasn't sure I wanted to…somedays I have this desire to host the good and the bad…he let me know it would hurt my influence and he was probably right It's deleted. )  and get a job. I called him a week later and let him know that the Facebook page was taken care of…it will take a little longer to work out God's will on the other one. He wouldn't let me pay for dinner or breakfast…so after we walked out and he was driving off, I went back in to use the restroom…and leave a gift certificate for the next time he came in, which was probably the next day:-) The waitress told me he wouldn't be happy and she was right!
I suppose some of the influence that Ernie has over me comes from a year spent together, but also in the fact that I don't see him that often. It's a special time whenever he allows me access…and that's not because he's castled up, but just that we both live very busy lives that are not very connected. He's one of the people in my life that could ask me for anything and I would try to give it to him. How is it that we find people we not only would be generous to, but that we would choose to suffer for. In my imagination, I could show up naked, beaten, broken and lost…all of my own accord…and Ernie would take me in. I hope to never find out if that's true.:-)
Next stop was supposed to be Mountain View, CA where my cousin, Nina, lives. However, the drive was starting to close in and my schedule needed me to skip ahead. I gave her a call and let her know that I'll catch her on the next trek. We both know that's a maybe, but take it as better than nothing. She's awesome and amazing and knows that I'll keep reaching out.
So I cruise through the outskirts of San Francisco, heading for Santa Rosa where the illusive Jake Stebner and family had settled in. Jake was a student of mine down in Orange County. He, Kurt Foster and Omar Ferrari recorded their first music project in my little studio/guest bedroom when Shelle and I were living down on Balboa Peninsula. They all headed off to Walla Walla for college and finally ended up in Portland..continuing as the band, Worthington. I had arranged for dinner and dialogue and he was willing. I found his new law office, got confused and went to his old law office…called him and then made my way back to his new office…some days it takes a bit to get through the dust:-) We headed out to brew and pizza and we told stories…tales of love found and lost, of dreams that beckoned and bruised us and made us grateful for their moment in our lives. We talked of friends and school and wives and children and it just ended up being fun to sit with Jake! As we headed back to the office, I made a small request…would you play me one of your songs…he said, "of course…if you play one of yours". And so there we were, sitting in his elegant law surroundings, pounding out blues and country tunes…I just couldn't stop smiling. He asked me where I was staying and I told him I didn't know…the beach, perhaps, as it was only an hour away. He told me that he would have loved to have me stay at his place, but his son was sick. I understood. There are no expectations:-)…it always works out. He guided me to the nearest gas station and headed off for home. I shoved the nozzle into the gas hole and leaned back against the rear panel…this had been an amazing day! As I headed west for Sonoma State Beach I was thinking about how the trip was winding down in a hurry…at least, it felt that way.
As I pulled into the outskirts of Guerneville I got a text. Went something like this…I told my wife you were considering sleeping at the beach and she VIGOROUSLY OBJECTED…says its going to be freezing tonight and that you MUST stay here. Get here quick and don't judge us by our messy home:-) What was so amazing is that I was just driving through the town they lived in and in five minutes I was pulling into their driveway…Jake, out front in his socks, and the phone still to his ear. We shared a glass and talked till there was less to say. They showed me to my room and I was crashed in no time. What a lovely shift in circumstances…a cold beach for a warm bed, a great night of stories shared and the chance to meet the wife and son of an old friend.
Here's where the story takes a special spin. When I was up in Bozeman, Mt., I went to dinner with an old friend from Orange County days. He took me to dinner the night before I left, allowing me to sample a lovely bison burger with all the accessories. We talked, no surprise there, about living in a God space. Gary shared with me how he had almost died a couple years earlier, running his vehicle at highway speed into the back of a very slow moving vehicle at dusk…which wasn't running the appropriate travel support. Anyways, everybody who showed up to the accident thought he was going to die…except for God. And God was right…go figure:-) As I listen to his story and his encouragement concerning the journey I am on, he slips $200 into my hands and asks me be blessed or bless someone else. For the days that passed, that money had stayed in my wallet…until I was getting ready to leave Jake's house. He had left early cause he had court. As his wife and I were chatting I found out that the next day was her birthday and the night before I discovered that becoming a lawyer isn't cheap:-), especially in the beginning. So I pack up my suitcase, pull out a big bill, fold it and put it underneath her phone. She notices out of the corner of her eye and asks, "What are you doing?". And she walks over and pulls the big bill out and immediately protests with VIGOR! Her best line was that Jake would be sooo upset if she accepts. It ends up with me outside the house, kneeling at the front door, begging for the opportunity to invest in true love, romance and musician lawyers who need to take their amazing wives to dinner:-) She finally succumbed. I got a text from Jake an hour later. I got a $100 whupping waiting for me, my next pass through Santa Rosa, and I can hardly wait!
The next stop was sobering. It wasn't the drive cause even with flooding, it was pretty enough. I was off to see Cheri Nystrom up in Paradise, CA. Cheri and I were classmates in high school and college. I remembered her amazing laugh and sense of humor. I remembered her deciding to fast ( you know, don't eat ) for a week and she was the cafeteria worker who served us breakfast each day…what will power! I was going to see Cheri because of a promise I made to my cousin, Gayle. Gayle and Cheri are best friends and Gayle decided that I needed to stop by and she can be very bossy…I mean, convincing! See, Cheri, when I knew her, was full of athletic vim and vigor. However, one day, after finishing a long day teaching and heading to some teacher meetings…she fell asleep at the wheel and the aftermath of the accident left her paralyzed. That was the Cheri I was coming to see…thirty years later.

Gayle had given me her address and I was cruising in, totally off the radar. When I pulled into the assisted living compound I was a little nervous. What if she didn't want to spend any time? What is she couldn't spend any time? I parked the car and a short, stout older gentleman asked me if I needed any help. I let him know that I was looking for Cheri and when I clarified that she might be in a wheel chair, he brightened up. "I know right where we're going!", he said. And he took off, through the front doors, checking over his shoulder to see if I was able to keep up. I shifted from saunter to stride mode and was able to keep him in sight as we wandered the corridors. He pulled up to a door, knocked and went in. A nurse was just leaving. I trailed in behind him and after he was done talking I introduced myself. A look of disbelief and recognition passed over her face and I took the chair next to her, sitting down. My guide didn't leave the room, however, waiting for Cheri to give the "all clear" signal before he left. It was very sweet.
She asked me why I was there and I told her that "God" sent me…Gayle, God, visions in the night…I just knew I was supposed to stop by:-) Right away, the old Cheri came into play, asking if I could stay for dinner and making arrangements with her twin brother, Monte, to join us. Monte is the principal of the nearby Seventh day Adventist school. He made time and, before long, we were headed for the cafeteria. The one thing I noticed, as we entered the cafeteria, is that I was traveling with royalty. At every table, Cheri was greeted with a thoughtful delight and she would stop and chat or gently wave as we cruised by…it was one of the most interesting connections I had ever experienced. People were drawn to her and she gave in return. Over dinner I learned that she has a son, whom she is exceptionally proud of. I learned that she had been married over 25 years and she is compassionate in talking about being single. Her mind is sharp and clear, her heart wise and insightful…her physical boundaries will be released in a different place. I can hardly wait. I'm looking forward to sharing another meal with her and Monte…perhaps in November.
It was a short hop from Paradise to Redding…to see my folks. They had moved from Helena MT, where I grew up, having lived there almost 50 years. It was a pleasure to spend a day or two helping them hang pictures and move furniture. We haven't always seen eye to eye, but those days seems to be fading into the past. Over the past couple of years my mom and I have put some effort into understanding how we communicate and why we seem to miscommunicate so often. After taking the KLLP communication assessment we discovered some key differences that, once talked through, cleared a lot of baggage. It's not perfect. I still can be less considerate than I would like, but I'm getting better.
The final push had three stops…all important for very different reasons. Steven Davis lives in Yreka and is a student from Orange County days. A sometimes brash and outspoken, always tender hearted and often misunderstood teenager…he has landed on life with both feet, well anchored. Many of my students have taken shadow trails, seeking their spiritual core. I have seeped deeper into that journey a time or two, myself. Steve is a unique combination of home grown adventism and a relentless seeker of richer insight. Those who have experienced that culture can appreciate the potential for dissonance. Anyways, Steve and I met in a nice little coffee shop downtown. Hands curled around steaming mugs of coffee and hot chocolate, we launched into the dance. Talking to those you taught takes a bit of humility…after you get past the apologies, the should have beens and the wonder why's… you can move into how you are engaging life. Steve is happily married, with some amazing kids and has a job that stretches him. In our time together, we reflected on the challenges of longing to fit in while in high school and how that desire leeches on to your heart while growing old. I got to share my Jesus encounter concerning belonging and Grace. It was wonderful to be able to continue to have the adult conversations that started 25 years ago. You never know who will stay in the journey.
As I was heading out of Yreka, memories of college came to mind. It was a Friday night at Walla Walla College and I was hanging out in my Hallmark apartment, next to the donut shop ( the early morning, donut scented waftings ruined many a reasonable breakfast ). My room mates were off hanging with other friends and I was wandering through my songwriters melancholy…a special mentality that lends itself to writing sad songs about meaningless memories and circumstances. Writing may be the only gift that truly sparked my passions. However, writing music didn't get you through college and so it often felt like wasted time. In those moments, where I was lost between the ache I felt and the reality I needed to engage, I always had someplace to go. Mike and Bev Glasgow, along with their two kids, Michael and Marlene, ran the dorm I lived in and they had an open door policy for any of us who found ourselves lost along the way. Bev would make cinnamon rolls and guys would stroll through, saying hello and helping themselves. Me, I would just park myself on the couch and wait until it was time to go to bed.
Well, college ends and we all go our separate ways…except, Glasgows and I kept crossing paths. I worked for him back in Michigan when he needed an assistant dean. I came and spoke at a school they worked at in southern Oregon for a week of spiritual influence. And then he'd send some of his students my way…perhaps they needed a place to stay or a little of Shelle's cooking. When Bev's dad passed away, I drove from Portland to Medford to sing for the funeral. So heading out of Yreka, I was excited because Bev and Marlene were going to meet me for a late lunch and it had been years since we had seen each other. I pulled off the freeway and followed the handheld phone directions ( without holding the phone ) into the parking lot of a small hispanic restaurant. I waited a few minutes and they pulled in as well. And, after we were seated, it was questions time. Bev is one of the most inquiring people you will ever meet! It was everything from family to spiritual journey in two hours or less:-) And Marlene picked up where ever there was slack time. I hadn't spent much time with her since Michigan and that was in 1985, when she was just a munchkin! Come to find out, she had married the brother of a student I had at Orange County…and I just discovered recently that they are expecting! Congrats!
We finished off the chips and salsa and I was headed over to Bend, OR to conclude this trip, visiting some old students of mine from Portland Adventist Academy. The road I took was past Crater Lake and I ran full on into a blizzard. It was several hours of driving at half speed, passing vehicles spun out, hoping that 4 hi wouldn't use too much gas…snacking on Pringles and Arizona peach tea. Except for the white knuckles, it was a drive of quiet beauty and thoughtful consideration.In my mind I lingered over the places I had been, the people I had seen and the conversations meandered. You never know what folks will launch into once they realize you are only there to listen, not criticize…to understand, not judge…and to let them know they are loved. I love these people, in my own, broken way. The rest of the weekend was a blur of late nights, hours of conversation ( I know that phrase gets old, but it's true ) and the intention of reconnection and support. Spent the first night with the Jonathan and Jill Mack's…thanks Tanner for not letting this old man sleep on the floor. Second night, after hearing my cousin, Brent Brusett, preach up a storm at the Bend SDA church, was with Cole Mack and friends…followed by a great church service on Sunday at Westside Church…I always sit in the front:-) Thank you Jonathan, (missed you this time, Jill ), Cole, the Nicks, the Ambers and Brent and Stephanie…being with you is always a delight and has made my trip/life journey immeasurably richer.
And on Sunday, I headed home. Back to family, the comforting relationships I have with so many friends in the Portland area. I will sleep deep, in my own bed, and dream of the next adventure, the next conversation, the next shared brew…coffee, tea, sanka, etc. 3 years ago I asked God for 20 years of significance and this seems to be part of that process…Him shaping me as I serve Him…with gratitude. It's good to know that Grace has no attachments…no strings to be pulled. And that the only place we ever really belong is with Him, loving whom He loves. I hope, someday, that I'll get a chance to stop by your place, drink whatever you're drinking, and talk about how Love, Grace and Belonging can build an amazing life.