Wings, Wheels and a Wedding…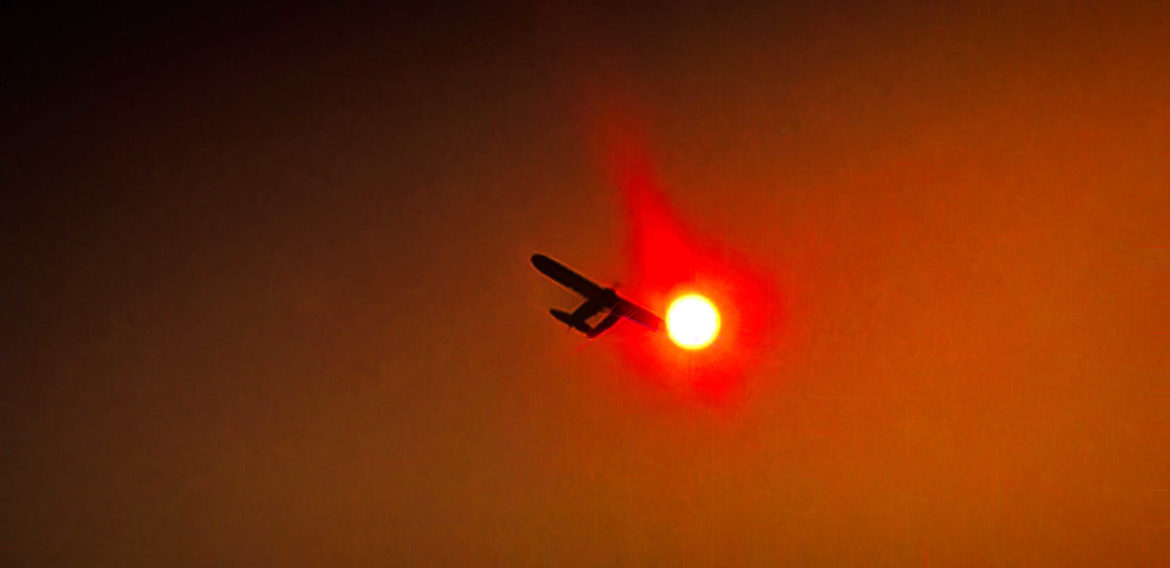 Hard to believe she was getting married…to a preacher. You never think the students you work with will age, cause you don't age, right? And yet, years after leaving the youth group on the west coast, she had found her Prince Charming in the hills of Tennessee and it was time to make the commitment. I had to go…how could I not?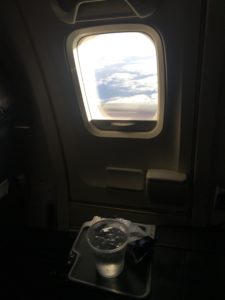 It was a red eye from Portland to Orlando. I, mistakenly, had thought that by paying a little extra, and getting an exit row, that I would have more room. I had plenty of leg room, but the seats were a smidge narrower…so it was attempting sleep while surviving the vise like grip of the arm rests…they were the oreo's rigid outsides and I was the soft, doughy center. We landed, suffering endured,  and I was bleary eyed and needing a coffee IV. I headed for the rental car agency. As I was getting the keys to my vehicle I casually asked for directions to Charlotte, North Carolina. The attendant asked why I needed those since you aren't supposed to drive more than one state away from your travel beginnings. I had never heard of that " rule " before, but I was pretty quick to catch his drift. I quickly said that I was heading that direction and that seemed to appease him. As he was getting my keys I considered the moral conundrum…tell him that I was planning to tour the east coast or just be quiet, since I hadn't seen that rule on the website when I ordered the vehicle ( Clicking on their website I found the information he was speaking about…it was 3 or 4 clicks in. If I had known that was there, I would have gone to another agency. ) . What if no one would give me a vehicle and I missed the wedding. That wouldn't be cool. Silence it was.
I headed out of Orlando before rush hour and pushed north. The first relational connection was in Bexley, Ohio. I figured it was about a 15 hour drive, so I had miles to go before I could sleep. I got tired quickly, but the book on tape and the cars anti destruction mode…along with Arizona Peach Tea and Sunflower seeds…kept me awake and in the right lane. The anti destruction mode works like this…if you start to change lanes, the car shimmies. If it's an intentional change, you push through the shimmies and if not intentional, your mind goes " WHOA, what's going on! " and you regain perceived control of your vehicle. Or if you get too close to a vehicle, your car slows down, reminding you to pay attention! The miles stretched on ahead, pins waiting to be bowled down, marker after marker. The south is stunningly beautiful in late spring, but I was a speed limit keeping comet, headed north.
Bexley is on the outskirts of Columbus, Ohio. Dave and Gail Sky live there and when they found out I was coming, they changed their vacation so they could hang with me for a couple of days. Dave is a master storyteller and guitarist/songwriter and Gail is a yoga and laughter specialist, after being a teacher for dozens of years. Highlights…we ate, listened to music, played music, walked, talked, walked and talked and watched the neighbors across the alley try out their new motorized skateboard, which has a top speed of around 20 mph. Being in their presence is a combination of joy and spiritual cleansing. They give and receive trust, grace…and patience. Dave is one of the safest men I've ever talked to. They invested in me…filling my water glass when they saw it empty, opening up to meaningful conversations when I needed it and letting me know that I was welcome and safe with them. And all too soon, the wedding cometh.
Out of Bexley and on to Nashville. The wedding was here, but I was a surprise so I had to lay low a couple of days. The Royer family are friends from Oregon. We went to the same church for years and their two oldest children ( now all grown up ) attended a home school co-op that I was involved with. They all live a little south of Nashville and their youngest son had given up his room for me ( which always makes me feel a little bad, cause I'm OK with floor space ). Also, I had other friends in Nashville that I wanted to see, so it was going to be a great time, waiting for the wedding.
The first engagement was with my friend, Blake Johnson, another transplant from Oregon. Blake is an entrepreneur at heart, longing to find that connection between gifting and discipline. He became my chauffeur for my stay in Nashville and we had a great time, sharing memories and the beginnings of dreams. With his help, I got to spend a meal with Jayson Smith, who is a connection from Spokane, WA via our mutual friend, Greg Birchell. We had ribs and talked about his dreams of being a songwriter and how that works in Nashville. He also has a great job traveling all over the U.S., running sound for large meetings. Footloose and fancy free, I was grateful he had time to hang out. Initially, Blake was going to join us but when we arrived at the restaurant, we found out it was 21 and over…I guess that makes it more of a bar. But Blake was very kind and took off to get some coffee and do some shopping. It was very thoughtful of him.
My other gathering that he helped guide me to was with an old friend from Orange County, the lovely Amber. When she was barely more than a kid, she worked at a school that I was associated with, Orangewood Academy. She became part of our family, babysitting Bodie when he was a wee lad, and visiting us when we moved to Washington. We hadn't spent any time together in 10 to 15 years and she had graciously agreed to breakfast at a hole in the wall coffee shop in Franklin. She hadn't aged a bit. We talked about family and friends; building a life of purpose and passion. As usual, the time passes too quickly and as you go your different directions, you wonder when or if you'll engage again.
And then it's time for a wedding. Outside, in a beautifully forested glen, chairs have been set up in a semi circle. A lone guitarist fingerpicks mesmerizing melodies with supportive bass lines…of course they do that here…it's Nashville. I sit with the Royers and Blake, making myself as inconspicuous as I can. I know, at 6'4″ and 300 lbs, that seems highly unlikely. The wedding was thoughtful, beautiful…all you would hope it to be…bride and groom radiant. After it's over, I get to love on the Loveridge family and we all head back to our cars via the shuttle that brought us in.
The reception was a party. Held in their church, everyone had pitched in to make it a great place to have fun. Dance floor, wedding party on a raised dais, tables and tables of friends and family and enough food to feed a small army…and we were hungry. It was so cool to see how these families had created such a great life for themselves. They had left Oregon, seeking their fortune, herding a bunch of kids and dreams to boot. Now, Nashville was home. One side process in all of this. I never made it up to greet the bride and groom. Some might think it strange to travel all that way and not say " Hello ". My thinking was that I was really enjoying the wedding as a bystander and I didn't need to make an entrance or statement. My presence was my blessing. And I figure that I'll be sitting down for dinner with them one of these days…and I'll have to explain, but that's OK with me.
The next morning, after the bride and groom had headed out on their honeymoon, I met the Loveridge Clan for brunch. Sitting between Avery and Jack was a, not so subtle, reminder that life moves on. They are amazing grownups in the making…that is meant to be a compliment. Then it was off to Daniel Royer's graduation process…he looked great in his cap and gown:-). That afternoon, the family gathered on the back deck, the dialogue turned towards spiritual things and doubts along the way. It was awesome to engage with these kids, now adults, and talk about ideas and concepts that they were wrestling with…without trying to change their perspective…let the Spirit do that.
Early the next morning, I was off to Richmond, Virginia to visit a former student from Portland Adventist Academy, Ellen Cockerham Riccio, who now plays for the Richmond Symphony, and her husband…the very engaging Guistino Riccio. The drive was a benevolent meander through the south. Lush farmland and forests hugged the edges of the interstate. I imagined what it was like to be here during the Civil War…every foot of land, a battle field in waiting. Nine, or so, hours later I slipped into Richmond, ahead of schedule. I found some long term parking, locked up the car and settled in to wander a bit. I had an hour or two to kill before meeting them for dinner.
It appeared that I was near a college. Many folks looked like students, booking to
and from class. I probably cruised a ten block radius and then headed back to the restaurant, choosing to wait on a nearby cement bannister. Ellen and Guistino showed up and we descended into this halfway below the street, deep and narrow, dive bar/vegan friendly food extravagance. And yet, as good as the food was, the company was the meals elegance. Ellen came into my realm of influence via the music class that Tim Ellis and I taught. She was a classically trained violinist, willing to venture into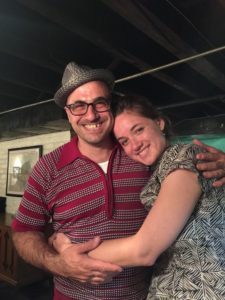 Tim's unique approach to improvisation and chordal structure. She became a delight to interact with…I believe I left the next year and  then we got reacquainted on facebook. Her husband is a professional percussionist and chef. The night passed in a flurry of shared stories, whimsical remembrances and the dreaming that continues to unfold. It is such a pleasure to sit in the presence of a former student who has come into their own…fulfilled, engaging life and in this case, happily married. As the evening came to a close, we took pictures, said goodbyes and I pointed those headlights out of town, south towards the Carolina's.
It must have been around 1 am before I pulled over at the roadside Motel 6. I hauled my valuables into the lobby, acquired my room and shoulder packed everything down to the short stay accommodations. Ten minutes later, I was out like the lights. This was the first of several, one night withdrawals. The beds were hard, showers made for short people and the clientele was made up of the wandering frugal…as if our passing would go unnoticed.
I've known Shannon and Heidi Waller since they were juniors in high school… Portland Adventist Academy. He was a promising athlete… short, solid, fired up and intellectually insightful. A pleasure to coach and watch on the athletic field. Heidi was a smart and hardworking athlete in her own right. College happens and Shannon decides to go into the military as an officer. Heidi works in the dental field. Marriage and the military puts them both in South Carolina, which is where I'm headed. After college, I kept track of Shannon via some mutual friends, the Ballou's…his old basketball coach and friend. When Shannon shipped out I spent hours looking for an appropriate gift…settled on a high end pocket knife. Over the years I would hear through the grapevine how they were doing. And then, about 8 years ago, I made their house a stop on my 6 week walkabout. Over the years, he remains as straight forward as ever, not mincing words or ideas.
It was a long drive for a short stay. We had an early dinner in the midst of a torrential downpour and lightning storm. The food is good and the conversation polite…the rain pouring down on the enclosed patio, so loud at times you could hardly hear the person next to you. We head back to their place…they are in the process of moving. The kids get put to bed, Shannon and I chat. We  go out into the backyard and lean against the metal fence. I ask about their three dogs and the gators that live in the small lake, a stones throw away. They are gracious, kind…the epitome of southern hospitality in motion…and I am a ghost from the past, a life, long released and let go. We share a drink, talk about mutual friends and the challenges that arise…and then it's time for the next drive, the next roadside motel…time for the ghost to meander. I am grateful for their time and know it's my time to leave.
It's north to Raleigh, NC. The night is dark and rainy…and I am contemplative. I remember raising money for a school to get rebuilt in Nepal, after the last huge earthquake. Shannon and Heidi pitched in, in a huge way. My mind wanders over how folks stay engaged as the miles click away, exit by exit, until I'm too tired to pay attention to the book on tape. The motel beckons and I answer. Another short night with tomorrows intentions at play…I'm going to see Steve Olson.
Steve was a classmate of mine during high school. He spent 4 years at Mt. Ellis Academy ( I spent 3.5 ), located just outside of Bozeman, MT. It's been 35 years, at least, since we've spent any time together. I got his number and email from my cousin, Gayle, who was wrangling people to come to our class reunion…it was our 40th. I was hoping he would come, but when he didn't, I decided to look him up. He has a strong presence in my time at high school. He was from eastern Montana…Wolf Point…and in some ways, he was a lone wolf. He was exceptionally intelligent, with a wry sense of humor…tough and tender…and there were a couple of times that he invested in me…and they stuck. Besides all the sports and academics, my senior year he helped me build a corner  cabinet unit for my room, to hold my illegal record player. He also helped me build a small book case that I have carried with me ever since. It's in my garage even as we speak. After all this time, the time spent building those simple wooden masterpieces seems like just a moment ago.
I got to the restaurant early, so I went for a walk. Just clouds, no rain, kept me company. I made some phone calls and watched the world carry on about me. I did some work in the lobby of the YMCA, watching athletes, young and old, cycle in and out. And then it was time…time for the next ghost to appear.
We age, externally. The hairline and the girth change, but the nose and eyes…the gait of his stride, remained. It was so good to see him. And on the inside, we sparkle and shine…agelessly becoming a richer, more substantive version of our beginnings.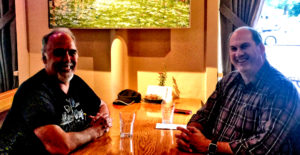 They sat us near the front, a booth all to ourselves, and the reel of time began to play…the surface waters skimmed by effortlessly…the who what where when how of now…jobs, kids, wives, family. Then the current deepened and more subtle, intricate weavings unravelled…losses, dreams, brokennings and rebuildings…and at 4 hours, the film finally spilled off it's reel and the movie was over. We settled back into small talk…who parked where and why:-) …the potential for a future connection when he travelled out to see his Aunt Nora, who still lived in Montana. And then the bill was paid and we were walking out the front door. I botched the hug, that awkward space between deciding to shake hands or embrace…and we were off to our time filling lives…him back to teaching college and me, off to meet folks I'd never met, but cherished, nonetheless.
The clouds scuttle across the sky as I weave through traffic, heading south and west. I'm trying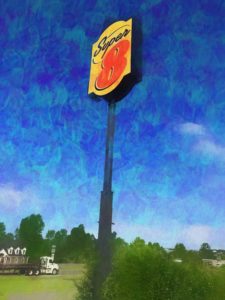 to get halfway to Mississippi tonight. Somewhere north of Atlanta, I pull into the Super 8 parking lot. Tomorrow will be a much different day, compared to the days so far. Everyone I've spent time with so far has had face time with me…we have walked through chunks of life in community. The Brantley's came my direction via one of the worst tragedies a family can endure.
A friend, Justin Boudreau, invited me to come help him with a student leadership conference in Jackson, Mississippi a couple years ago. While there, I met a young man whose name tag said " Montana Sky ". Being raised in Montana and liking his swagger, I struck up a conversation with him and his friend. he claimed to be a bull rider. At break, I checked it out and sure enough, he was a national level competitor in high school bull riding. I watched him through the three day event, checking in and seeing how he was doing. I video'd his board breaking, along with other kids…watched him win at rock paper scissors…and read his letter to his dad, that was posted on the wall, along with all the other students. When the event ended, I noticed his letter to his dad left behind. I took it down, folded it up and packed it away, along with his name tag and phone number that he had given me. Looking back, I'm not sure why he stood out anymore than any other student that was there.
He and I connected via Facebook. His full name was Montana Sky Brantley and he lived in Carthage, Mississippi. He finished high school and started community college. And here's where it gets tough. He fell in love. But it was complicated. Somewhere in that broken relationship, he decided that he would end his life.  When I heard the news, I was crushed. Didn't see it coming. One of the ways I work out heartache is song writing. I wrote a song called " The Last Rodeo for Montana Brantley ". I asked his parents if I could use pictures from his Facebook page to document the video I was making. They agreed. They also sent me the video of his funeral and his senior pictures as well. You can see the finished product here… https://youtu.be/3Z7lS-Qy4Vc . Now I was planning on visiting their small farm, outside of Carthage, and  learning more about the young man I'd known for 3 days.
Nicky and Becky Brantley were there to meet me when I drove down the country lane to their lovely home. Becky offered me sweet tea and cookies, Nicky took over the recliner in the corner and I sat on the couch. Becky settled in after serving and we started sharing stories. I learned how they met, how the rest of their kids were doing and how they kept missing Montana. I apologized for reopening that wound and Becky stopped me short. " We're so glad you're here. You see, nobody talks about him anymore. But it's as real today as it was a year ago. " I looked over at Nicky…this strong tough cowboy/farmer…and a tear slipped down his face. Becky and I did most the talking, but Nicky was exceptionally present. The tv in the corner played reruns of Gunsmoke and other western shows, a melancholy backdrop.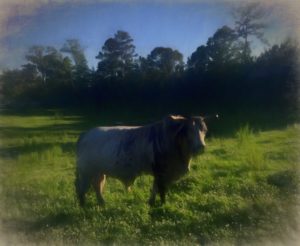 Nicky asked if I wanted a tour of the place. Nodding yes, he and I loaded into the quad and headed away from the house, past the chicken barns and up into the back pasture. He shared with me that he and Montana were going to run the farm together. He and Becky were gonna build a smaller place in the back pasture and Montana was going to take over the big house. He was going to build more chicken barns and eventually, Montana would have it all. " What am I supposed to do now? ", he queried, speaking into the descending eventide. He showed me the bull that Montana used to practice on. " Can't seem to make myself get down to the corral these days. ", he shared. I looked over and saw brush and tumbleweeds staking their claim against the wooden railings. My heart broke anew, hearing the pensive anguish in his voice. There were no answers.
It was getting dark. They offered me a place to stay, but I had miles to go before I could sleep and much to ponder. They slipped a $100 in my hand and wouldn't take no for an answer. I'll be back to Carthage. I'm gonna sip another glass of that sweet tea and we're gonna miss Montana again, together. Until then, I pray for them…that He who knows the beginning and the ending…will provide the comfort needed to make it through each day.
Two lane blacktop took me, winding, through the Mississippi countryside…heading east and south. The book on tape carried on the conversation while I pondered loss. An hour or two into Florida, I think around Pensacola, I pulled over for my last one night, short stay. In bed by 2 or 3 am and back on the road by 10 am. It's off to the Bennie, House of Beautiful Daughters, in Orlando for a few days.
I have known Scott Bennie since the late 80's. I was his teacher, youth pastor, bible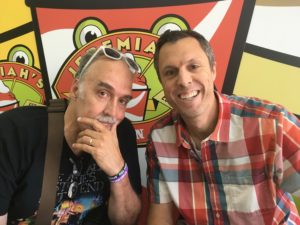 teacher, coach and friend. And then life happened. He went off to college and grad school and I left for Oregon. Over the years I had gotten snippets of catch-me-ups from family and friends, but I didn't want him to slip away…so I invited myself to his house for a couple of days and he said, " Sure. " I pulled in Friday evening and the fun begins…he has this amazing, thoughtful wife…Katrina and two beautiful daughters that have decided to call me, " Sweet Kevin. ". I may never leave. It's been a long day driving, but we stay up chatting for several hours. At last, they point me to the upper room and I crash hard.
The next day we head off to church. The girls get a cool class for kids while Scott and I take in the local " Reach and Teach ". It was a good program, but Scott wouldn't join me in the front so I compromised my values and sat with him:-) After the brief social rush on the way out we headed off to lunch. It is family time weekend, which I love!
The girls let me be their street crossing chaperone. We carefully look both ways and make sure we stay connected. And then it's off to look for gators at the local wild life preserve. Driving lessons ensue while we keep searching for the well camouflaged stalkers of wild beasties ( may have gotten a bit carried away there ). When we've achieved an apropriate level of fun and tiredness, home we go…Katrina and the girls get a nap…while Scott has agreed to head out to the coast with me…to hook up with an old classmate of mine, Ron Leduc, and listen to the family band, Diamond Dixie.
It's about an hour drive to Fish Camp, the boat friendly beach bar where Diamond Dixie is performing. We are definitely over dressed.  We follow the music and soon enough, we are listening to wonderful renditions of country favorites. These teenagers are good. They pull off an hour set with no notes, lyrics or prompts…and then they take a ten minute break and do it all over again…impressive. I go find the refreshments and bring Scott back a Coke and a lemonade for myself. We stand at the railing, chatting with Ron and Cheryl, while their three kids rip it up. It was a great time and so good to connect with them. They finished their set, I buy a t-shirt ( how thoughtful, they have a 2X ) and then it's tear down time…all with the local boys trying to get Leduc daughter's phone numbers. Mom keeps a watchful eye and with everybody pitching in, they are up and ready to go in 20 minutes. Scott checks in with home and we get the OK to go to dinner with the Leduc family. The restaurant doesn't have a booth big enough for all of us, so the band goes and sits in the booth next to ours. Over dinner we get to hear the Ron/Cheryl love story and it's a great one. All too soon, the food is gone and it's time to head home. What a great day, with old friends…the only thing better is if Shelle could've been there.
Scott has never been a shallow guy…always runs deep. That night, after reconnecting with the kids and Katrina, he and I take a walk around the block, a half dozen times. I should have worn better shoes. It was so refreshing to listen to the heart of a former student share some of their perspective…whether politics, work, family, etc…there was a richness there that was deeply engaging. The night ended all too quickly and after breakfast with my two new friends ( their daughters ), I was off for the last stop.
Beth and Kelly Clarke live just south of Tampa, near the small suburb, Bradenton. I've known Beth as long as I can remember. Her Aunt Sandy was one of my best friends in high school and I used to crash on Beth's grandparents floor, traveling from Walla Walla, WA to Helena, MT. Sometimes I'd just sleep in my car in their driveway and wake up in time for breakfast. In fact, her sophomore or junior year in high school, Beth and her mom, Susan, came and lived with us for a few months. It gets even more complicated…Beth married Kelly who is best friends with Joe, who married Sharika, who was also a student of mine at Portland Adventist Academy. And I had the privilege of being involved in Kelly and Beth's wedding, over in the Bitterroot  Valley. Anyways, you get the idea.
And I hadn't seen Beth and her family for years, so why not hop over and reconnect. It was a lovely, flat two hour drive. I pulled up in front of their cool beachy house and they all came out to greet me. It's that moment when, what seemed like a good idea pauses in denial. But Beth is Beth and she made me feel right at home. I got introduced to the kids, a boy and a girl, and we sat down to chat. It's story time, get caught up time, time for lunch time. We ate/snacked and the kids headed outside. Beth is one of the most transparent people I know. The kids walk out the door and we are headed directly into real life and it's a pleasure to listen and share insight with someone who has given you permission to engage. Time flies and I have a flight to make. As usual, everybody wants me to bring the lovely Shelle with me next time…it's a possibility, to be sure.
As the plane takes off, headed west, then north, I get a chance to reflect on why I do this. I do enjoy, no, savor the time in connection. And while the days of travel are long, they help me set up for each interaction. I spend time reviewing my life experience with the people I've seen and those I'm going to see. I pray over the interactions that have and will transpire. I guess it's my way of segueing between the loneliness within me and the community I've served over all these years…in a sad way, remembering that those connections had value…giving me a sense of value as well. It's medicinal and prescriptive for me, and hopefully a positive reminder to those I visit…that they are thought of, and cared for, and worth driving around the country to see. The moments become touchstones, reminding us that relationships are a deep place that will last as long as we do, if not a few moments longer.