2021…Looking back as we're moving forward!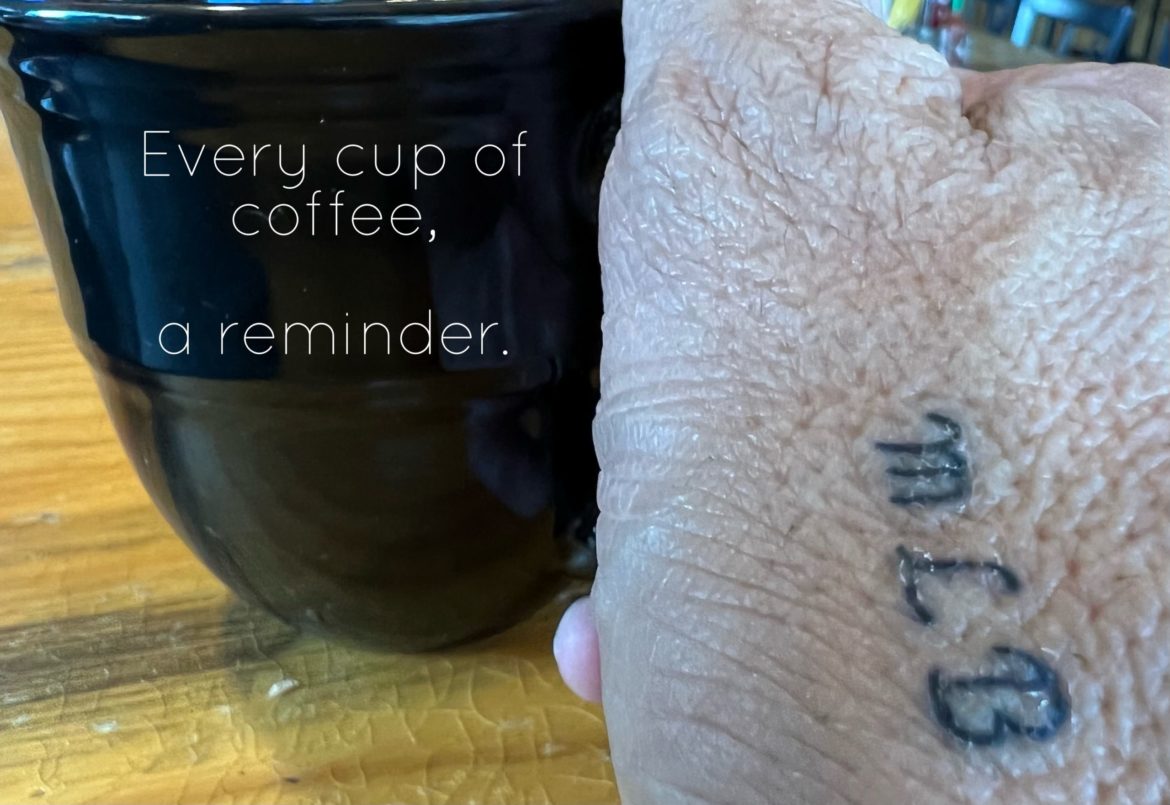 Good day, my friends! And Happy 2022!
I hope this finds you in the midst of an amazing life…fully engaging the days you've acquired…which seems to be much harder to do than it would appear at first glance. The distractions that lead us away from being fully present seem so important until events take place that clearly reveal the truth…nothing is richer than our relationships.
2021 showed such promise…an album getting done, a bus revitalized and new ministries to engage. I never imagined the high's and lows would be so high and LOW. 
The album, It's About Time, is a compilation of life songs, reflecting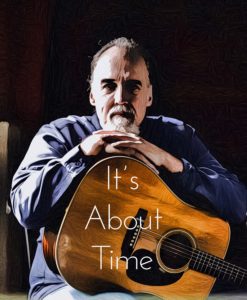 the free range, cage free journey that Christ has lead me to…encompassing faith, doubt, love, loss and the beauty of it all. Even more exciting than the music is that two of my favorite musicians agreed to share their skills. We've known each other over 20 years and were excited to weave our talents together. However, what started out with amazing enthusiasm ground to a slow crawl. We couldn't seem to finish anything. Our interactive whimsy seemed to counter our progress and the months slipped by with little to show. I prayed about it, got counseled about it…there was no lack of wisdom sent my way…but I needed to balance two things…the music outcome and the relationship outcome. We finally set a hard date of December 31st. If we couldn't finish the project by then, I was free to look elsewhere.
You guessed it. That date came and went and I started looking for a finisher. Got several great recommendations but nothing felt quite right. And then I got an email from another old student who asked if I had any projects to work on…WHAT IN THE WORLD!!!! He's one of the students that read every manual, sought out different insights…and he finished stuff in a timely and crafted manner. So, we are handing it off to him and seeing what God and grace will do with this crazy process.
In the big picture, I was hoping to do an album a year to help fund Inner Anvil. At this rate, it might be every  five years:-)
The bus…sat in storage parking for a couple of years because I didn't have the vision, the courage to ask for help or the money to move forward. Due to an amazing donation at the end of last year, this year has been the year of the "  get-er-done ". It got painted, sleeping and working quarters were created, the engine got revamped, and a 16 by 8 ft aluminum deck got put on top.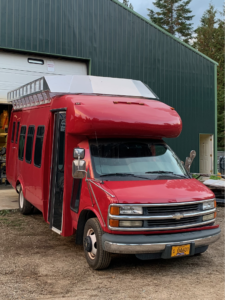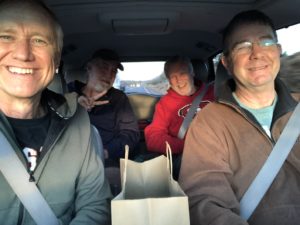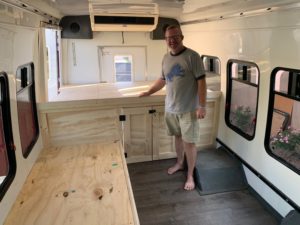 In theworks is a composting toilet, an out-door shower, electrical inside and out, a performance stage, a cooking area and last but not least, a set up for my recording studio. This is going to create opportunities for life change that will be SO MUCH FUN!!!!!
And then we found out we were going to be given a second bus. It has leather seats and less than 60k miles. It will be painted red and between the two of them, we will take creativity on the road in the summer of 2023. I'll give you more info on what that will look like on this years dreaming, down below.
People Care…two big trips and a funeral come to mind, for very different reasons.
My friend, Keith Perrin, had cancer. It went away for a while and then it came back. I didn't know who was going to be journeying with Keith while he was processing this…so I went to Phoenix to spend a couple weeks with him. While spending time at our favorite breakfast spot, First Watch, in Glendale we came up with an incredible idea…let's drive to Texas and watch his son's team play basketball…his son is one of the coaches. A vision was cast and plans were made and we headed off to Texas Tech. First night we went to Flagstaff, after Dan got off of work, and then it was Texas or bust. Ralph, Keith, Dan Wright and I had hours to delve deep into what matters in life…and how we could support Keith in his continuing battle with his evil villain, cancer.
The game was great, the company impeccable and the road unending…Texas goes on FOREVER and I ended up not driving one single mile which is unusual for me, to say the least. 
Sitting in the presence of someone experiencing the trauma of cancer creates a sense of futility mixed with a " Braveheart " sense of courage…and in that moment, you get that engagement of freedom, that tendril of focus, that perspective of what is going to be important for today, cause today may be all you have. And while you know that, intellectually, it is different within a mind/heart meld.
The great news is that Keith is cancer free and engaging in a wonderful life full of family and purpose. 
The second trip was traveling with my friend, Steven Shomler, to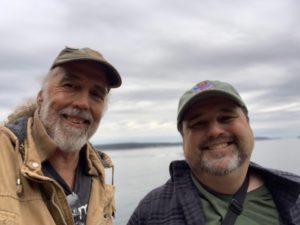 Deer Isle, Maine and the surrounding countryside. Steven is pursuing a career in travel/food/life insight and he needed an extra set of hands to manage a " life on the road " opportunity. It was 10 days of early mornings, late nights, awesome food, delightful interviews and the deepening of a friendship forged in service, grief and shared dreaming. 
You can follow Steven's adventures here: 
https://www.culinarytreasurenetwork.com, https://www.sparktobonfire.com
It has become so evident that this life I've been lead to is not about me. I am merely the stepping stone, the ladder, that is meant to help others move deeper into the callings that have been placed with in them. And in the meantime, I get to grow deeper into the blessing that allows me to bless.  
And sometimes you get to go back to connect with old friends because a journey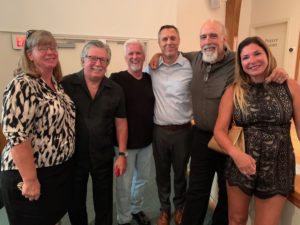 has ended. James Bennie passed away this past August and I was so privileged that the family invited me to participate in his life memorial  and celebration. I had taught all three of his boys in high school. We had done youth ministry together and to this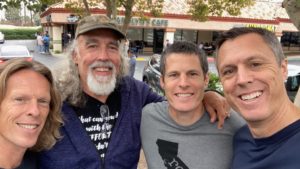 day, I love stopping by and spending time talking deep into life with them. On a side note, it was interesting because in the weeks previous I had been working on some music that these friends used to love…an album I put out when they were in high school. And it was one of those songs that they asked me to play for the memorial…Miss You Till The Morning…which is a story of a father and daughter walking through life.
And because this isn't my first rodeo, I knew that it would be a gathering time. Friends and family gather for weddings and funerals and your connectivity and influence vastly multiplies if you can be there…but you have to be able to drop everything and be able to go, which is the blessing of how my ministry works…Free Range, Cage Free. We spent several days caring and connecting, telling stories of Jim and envisioning life without him. It's all bitter sweet, full of promise and loss.
And I know that when my time is up, these men will gather and tell stories, swap lies and commit to building a life of such adventure that when I see them again they'll have much to share.
And while these highlights give a perspective to being willing to follow the call, it's really the daily interactions with former students, old friends and fellow wanderers that give weight to the time and money spent.
I've been accused of being verbose, striving to give too much information. So I'll end here with a few key thoughts about the future.
I'm walking across Spain, starting April Fools Day…seemed appropriate. I invited 80 men to join me and directed them to my Camino Coordinator. I'll be walking 10 miles a day for approximately 55 days. 7-12 men have decided to join me for a week at a time. The purpose is to walk into deeper conversations and richer relationships.
The bus will be joined by another. The first is a traveling studio/ performance piece. The second is for carrying the musicians and their stuff. We are navigating through the process of finding 4-6 singer/songwriters who are willing to hone their craft for the 22/23 school year and then hit the road, putting on 50-60 concerts in the month of July, 2023. We want to play churches, bars, parks, nursing homes, summer camps….anywhere that will have us. It will cost $500 to sign up and then all the profits from the trip will be split between the performers.
When I asked God for 20 years of significance, He gave me 6 tasks to take on. I'm going to finish number 5 in  the next 6 weeks. Pride and fear have been removed, only Grace remains.
And if you'd like to know more about the six tasks, I'll be happy to share.
On a personal note, my father, Morris Brusett, passed away on January 21st.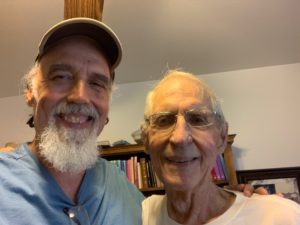 The past couple of years had been hard on him, slowly taking away his freedoms…couldn't drive anymore ( although he wanted to ), couldn't workout anymore, had to be careful what he ate, etc. Perhaps you've experienced this as well.
Anyway, on Thursday he went to the hospital because of low oxygen levels. I called and talked to him. We joked about me moving closer. I told him I loved him. He told me he loved me. He went home that night. I planned to call him but was caught up in the studio. That next morning he never woke up…or perhaps he woke up some place else:-)
We're celebrating his life on August 5 and 6…his 90th birthday would have been the 7th. Super proud to be his kid and grateful for all he invested in me.
When I was starting this journey of being a Free Range, Cage Free pastor he told me I needed to get a job. When I told him I felt like Jesus was leading me in a different direction, he never once challenged it. Always told me how proud he was of my willingness to walk this journey, serving others where I find them.
I will miss him, dearly.
I treasure you and your support, in that order. I'm grateful for the conversations and considerations. Please keep me in your prayers. Feel free to reach out and chat. If you know other folks who would like to support a mission like this, feel free to pass them on to inneranvil.org.
If I can ever serve you…a conversation over coffee, a dialogue for your church, a ride to the store…it doesn't matter…give me a call. 971-570-2253. I'll come.
Much Love….Kevin